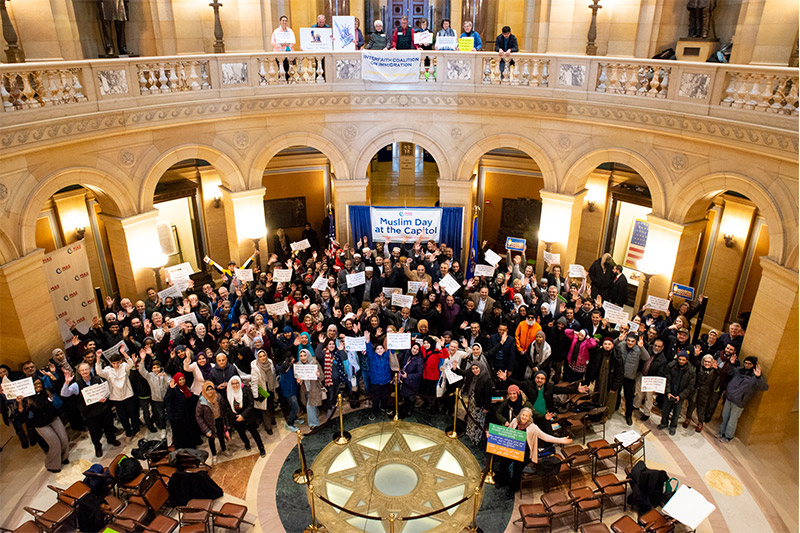 What Happened and Where We're Going: A Summary of Legislative Session
Last year, we built a mandate for bold leadership; for ourselves and for our elected officials. In January, we gathered with a couple thousand of our neighbors and set our strategy for how we would lead together to move us closer towards a caring economy and democracy that honors every person's dignity.
Many powerful elected officials, from the Governor's office to the State Legislature, partnered with us and led boldly on our agenda. However, in spite of our best efforts, a handful of politicians, who did not stand for election in 2018, were able to block the will of the vast majority of Minnesotans. The end results are mixed. Together with our wider movement and leadership across the State Capitol and the Governor's office, we were able to protect the healthcare of a million Minnesotans and stopped unacceptable policies that would take us backwards. But many challenges facing our communities have not been addressed. We are not having the public conversation at the State Capitol that Minnesota's families deserve—a conversation about what we will do pro-actively to ensure all Minnesotans, Black, brown and white, are thriving.
Every Minnesotan–Black or White, rich or poor, rural or city, Christian or Muslim, long-time resident or newcomer– is worthy and deserving to thrive and benefit from the abundance we've collectively created. We proclaimed a vision that would allow every Minnesotan to thrive: expanding and protecting childcare and healthcare, having statewide paid family and medical leave, restoring driver's licenses for undocumented people, restoring the vote for our formerly incarcerated neighbors, ending anti-Muslim words and deeds through policy, and ensuring clean water, air and earth for our future with 100% clean energy.
How we led:
This legislative session and this season of governing was an opportunity for our legislators to lead with us in creating a robust, multi-racial democracy and a caring economy where every person can thrive. During this session, we set out to not only show up at the Capitol as we usually do, but to have our legislators come to us in the districts where they serve.
We held 42 in-district meetings with our elected officials, engaging nearly 2,000 Minnesotans. Hundreds of new leaders were developed and took charge leading these meetings and telling their stories. Over 4000 people engaged with us at the Capitol, in an in-district meeting and in other forms of leadership in only the last five months! Hundreds of these leaders showed up again and again in hearings, actions and key moments throughout the session.
Thank you for your leadership.
What happened this session:
The House of Representatives fulfilled the promises they made throughout 2018, and they led boldly on our issues. Representatives held dozens of public hearings, listening to testimony from Minnesota families in need, and they passed exceptionally strong bills on all of our issues demonstrating their commitment to bring solutions to the crises families are facing. Governor Tim Walz doubled down on the vision for Minnesota that he campaigned on in 2018 and championed our issues this session.
Unfortunately, the Senate's agenda for Minnesota was not aligned with the vision that we created together. The Senate majority did not allow hearings on Paid Leave, Driver's Licenses, Restoring the Vote or 100% Clean Energy. They did not hold a single hearing on any of our policy proposals or many of the policy proposals of others in our movement, such as common sense background checks for gun owners. Instead, they worked for months to roll back the progress we have made towards a caring economy: they opposed protecting the Healthcare Access Fund, which helps fund more than a million Minnesotan's healthcare, they tried to roll back paid sick days and minimum wage for more than 150,000 workers, and they attempted to fully defund the child care assistance program.
Yet, because of our work together and with our partners, we made sure the provider tax will not sunset and continues to fund healthcare for over 1 million Minnesotans. We fought back an attempt to completely repeal Child Care Assistance Program (CCAP) which serves 30,000 Minnesota kids and their families. We blocked a cynical and mean-spirited move to roll back local paid sick days and minimum wage ordinances. Sadly, the senate blocked the rest of our agenda from moving forward. But we don't despair, because we are just getting started!
What now?
We've gotten a taste of what we already knew was possible! We set out in 2018 to build a mandate for bold leadership and co-creative partnership with our elected officials around our vision for a caring economy and a multi-racial democracy that honors every person's dignity. The Governor and House of Representatives, who were forged and elected in 2018, led around our shared agenda.
It's time for us to prepare to lead a path toward 2020 that demands a new kind of politics for the House, the Governor and the Senate. It's time to prepare in our churches, mosques, childcare centers, barbershops and communities to lead a path to invite thousands to join our movement for a caring economy and multiracial democracy where we can all thrive so that we can make our vision for Minnesota a reality in 2020 and beyond.
Sign up for the June Legislative Debrief and Path to 2020 strategy session near you today!
Thank you,
Doran Schrantz
Executive Director of ISAIAH