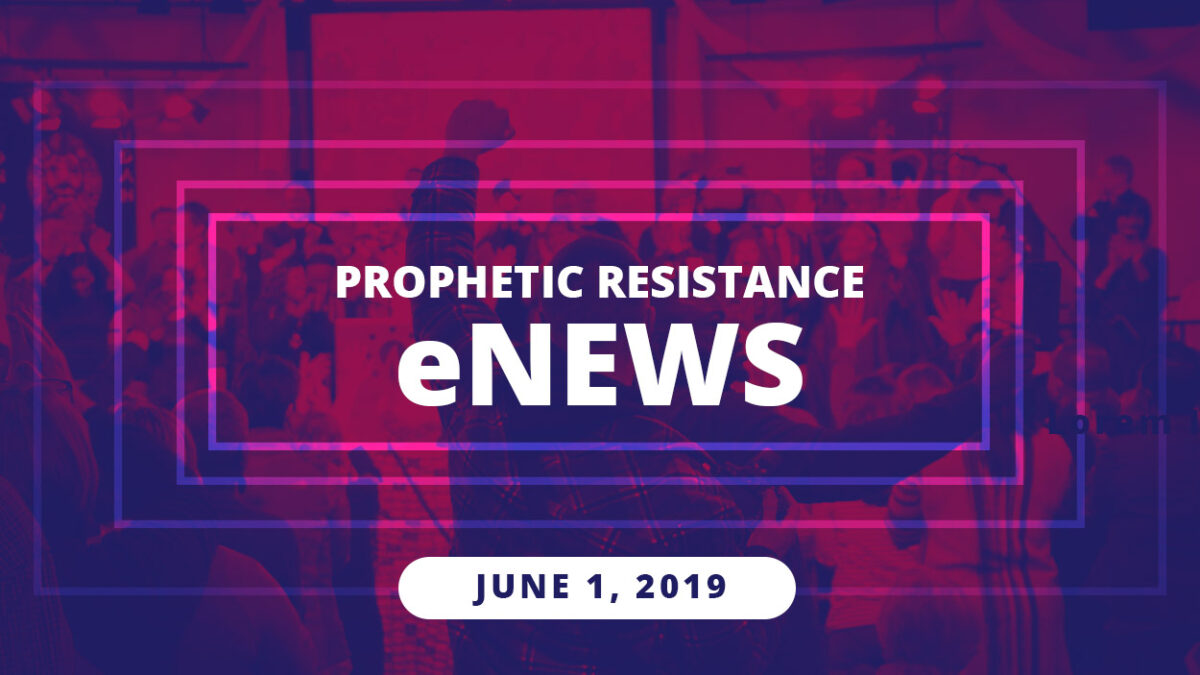 Prophetic Resistance Newsletter: Endings and New Beginnings
Colossians 2:8
Be careful that no one takes you captive through philosophy and empty deceit based on human tradition, based on the elements of the world, rather than Christ.
Life is a series of moral choices. We are constantly presented with varying options that have implications far larger than the moment and bigger than ourselves. Consider our state budget, for example. It is a moral document that illustrates the regard we have for one another, whom we deem deserving, and what we consider worthy of flourishing or destroying.
While working with one another, values-based negotiations is necessary, BUT compromising our values and one another is not. We cannot make an idol of compromise or fall into the deceit of scarcity that demands that we sacrifice care, love and families.
Christ came that we have abundant life. Making compromises that harm lives is never necessary. As we move out of legislative session and into the next phase of our journey in creating the Minnesota we know is possible, let us all push ourselves and elected leaders to lead in abundance and reject the myth or scarcity.
---
Ramadan Reflection: Qu'ran 2:185
Ramadan began at sunset on Sunday, May 5 and will last through sundown on Tuesday, June 4
"It was in the month of Ramadan that the Quran was revealed as guidance for mankind… distinguishing between right and wrong. So any one of you who is present that month should fast, and anyone who is ill or on a journey should make up for the lost days by fasting on other days later. God wants ease for you, not hardship. He wants you to complete the prescribed period and to glorify Him for having guided you, so that you may be thankful." (Quran, 2:185)
This is one of the verses that are commonly recited that describes the month of Ramadan and what to do. It is a powerful and deep verse, but we want to focus on the last part of this verse which explains how God has given us this experience not as a hardship, but an ease and that at the end of it we are supposed to be grateful.
God says, "That you may be grateful."
For what? For his bounties upon us. From basic level necessities like Food, drink, spousal relationship and so forth. Also gratitude for guidance to worship and recognize him and our purpose. Also God the most merciful and exalted has given us so much in this month of Ramadan. In this month we planted the seeds of goodness. We planted the seeds by fasting in the long days of summer. We stood in Qiyam (night prayers, in Taraweeh, reciting the Qur'an as a whole community. We made du'aa (supplication) for things we need and for others. Some of us already paid their zakat (obligatory charity). We gave in abundance charity for different causes and to those who have less than us. We were good to those around you. We avoided that which was haram (sinful). So for that, Allah SWT* promises the reward today. Allah SWT promises us an abundance of reward. That's why they say. That the Eid isn't just for the person who wears new and nice clothes, but the Eid is a celebration for that person who in the month of Ramadan increased their good deeds.
Read the full reflection by Abdulahi Farah, Muslim Coalition of ISAIAH organizer.
---
Legislative Session Recap From ISAIAH's Executive Director, Doran Schrantz
Last year, we built a mandate for bold leadership; for ourselves and for our elected officials. In January, we gathered with a couple thousand of our neighbors and set our strategy for how we would lead together to move us closer towards a caring economy and democracy that honors every person's dignity.
Many powerful elected officials, from the Governor's office to the State Legislature, partnered with us and led boldly on our agenda. However, in spite of our best efforts, a handful of politicians, who did not stand for election in 2018, were able to block the will of the vast majority of Minnesotans. The end results are mixed. Together with our wider movement and leadership across the State Capitol and the Governor's office, we were able to protect the healthcare of a million Minnesotans and stopped unacceptable policies that would take us backwards. But many challenges facing our communities have not been addressed. We are not having the public conversation at the State Capitol that Minnesota's families deserve—a conversation about what we will do pro-actively to ensure all Minnesotans, Black, brown and white, are thriving.
To read the full message, click below.
It's time to finish our unfinished business. In the meantime, sign up for a regional strategy session/meeting to get in on the plans. #MinnesotaIsReady
---
ISAIAH Leaders Publish LTEs!
Several ISAIAH faith leaders have had their letters to the editor published this week alone! Leaders like you are making sure that the important message of who we are as Minnesotans, what we mean to one another and what is possible when we work together, gets into the press and public's worldview. Take a look at Greg King and Arline Datu's LTEs in the StarTribune and Ron Joki's in the Sun Sailor – St. Louis Park.
If you had a Letter to the editor published this legislative session, let us know here.
---
We're 100% Social: Snacks, Drinks & End-of-Session Update
Monday, June 3; 5-8:00 pm
Hosted by the 100% Campaign
Lake Monster Brewing, 550 Vandalia Street #160, Saint Paul

We've done a lot of work, so let's take a moment to celebrate and reflect on what we've help make happen this session! We will have food, music, a short program and the taproom will be open and serving all of Lake Monster's brews.
---
Pathways to Clean Transportation – Twin Cities
Tuesday, June 4; 6-8:00 pm
Hosted by MN350 and ISAIAH
Minneapolis Urban League, 2100 Plymouth Ave N, Minneapolis
Minnesota's Department of Transportation is holding workshops around the state on how we can get to clean transportation, clean air, and a stable climate. They'll be asking for feedback on their Pathways to Decarbonizing Transportation report, and Minnesotan's thoughts on how to go forward with a clean, just transportation system.

Join us for this opportunity to decide, together, what the future of transportation could look like, with the state ready to listen.
---
Southern Minnesota Leadership Assembly
First Unitarian Universalist Church, 1727 Walden Ln SW, Rochester
We learned this legislative session that despite overwhelming support in MN for policies such as paid family leave and making healthcare affordable and accessible for everyone, some elected officials are still trying to divide us.

They tell us there are not enough resources to care for our loved ones and they obstruct the investments that our communities need. We need to strategize now on how we can engage our faith communities and neighbors to create the democracy we deserve. WE have to create the people power to hold our elected officials accountable to us and make real change in 2020.
On June 15th, we will share what we're working on in our communities across Southern MN and what kind of support we need and will equip ourselves on intentional conversations in our congregations and communities.

Register below. Lunch will be provided, as well as translation and childcare as needed.